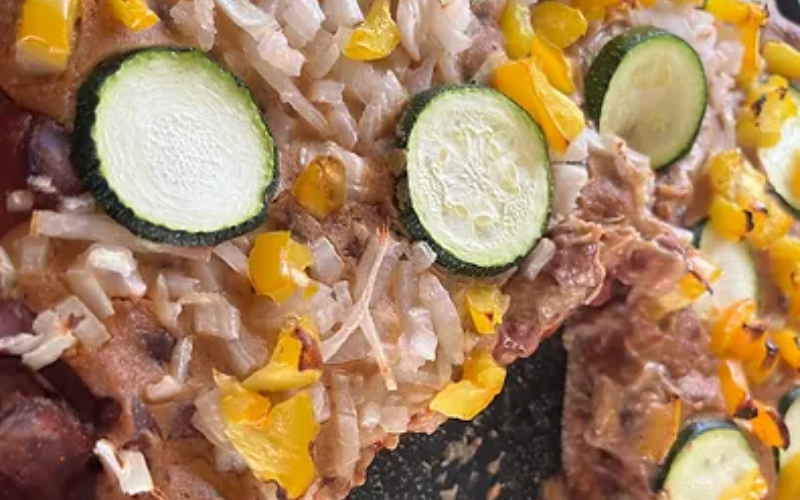 Well, I made this the other night for a SAD friend, and he only tolerated it. But I thought it was the bomb, so I'm sharing it with the WellBean family. :-)
Here at WellBean, we advocate for a whole-food plant-based diet, and this pizza is no exception. It's made entirely from whole plant foods, most of which you probably have on hand.
The oil-free crust can be made gluten-free by using gluten-free oats.
Preheat oven to 400° F.
Crust
1 3/4 cups oat flour
3/4 cups cornmeal
1 1/2 tsp baking powder
2 T flax meal
2 T apple cider vinegar
3/4 cup unsweetened plant milk

Mix dry ingredients first, then mix in wet ingredients. Pour mixture onto parchment lined pizza pan. Cover with parchment and roll crust out to edge of pan. Remove top parchment, and bake 10 minutes.
Sauce
4 T tomato paste 
1 T apple cider vinegar
1 tsp cumin
1 tsp onion powder
1 tsp paprika
1 t chili powder
2 T salsa
1/2 cup water
Stir sauce ingredients together in a bowl. Spread sauce onto baked crust.
Nacho Cheez Sauce
1/2 cup cashews
1/8 cup raisins
1/2 tsp smoked paprika
1 t onion powder
1T nutritional yeast
1 t Bragg
1T rice vinegar
1/2 cup water
Blend ingredients in high powered blender until creamy.
Pizza toppings
14 oz pinto beans
zucchini, sliced
bell pepper, diced
onion, diced
Sprinkle beans on top of sauce, then drizzle nacho cheez sauce on top of beans. Next, place zucchhini slices and sprinkle onions and bell peppers evenly. Bake for about 10 minutes, or until onions and zucchini start to brown. Get ready for yum!
Don't forget you can top off this nutrient-rich meal with a nutrient rich WellBean. (I recommend Chocolate Chip Cookie Dough nuggets for a decadent dessert.)